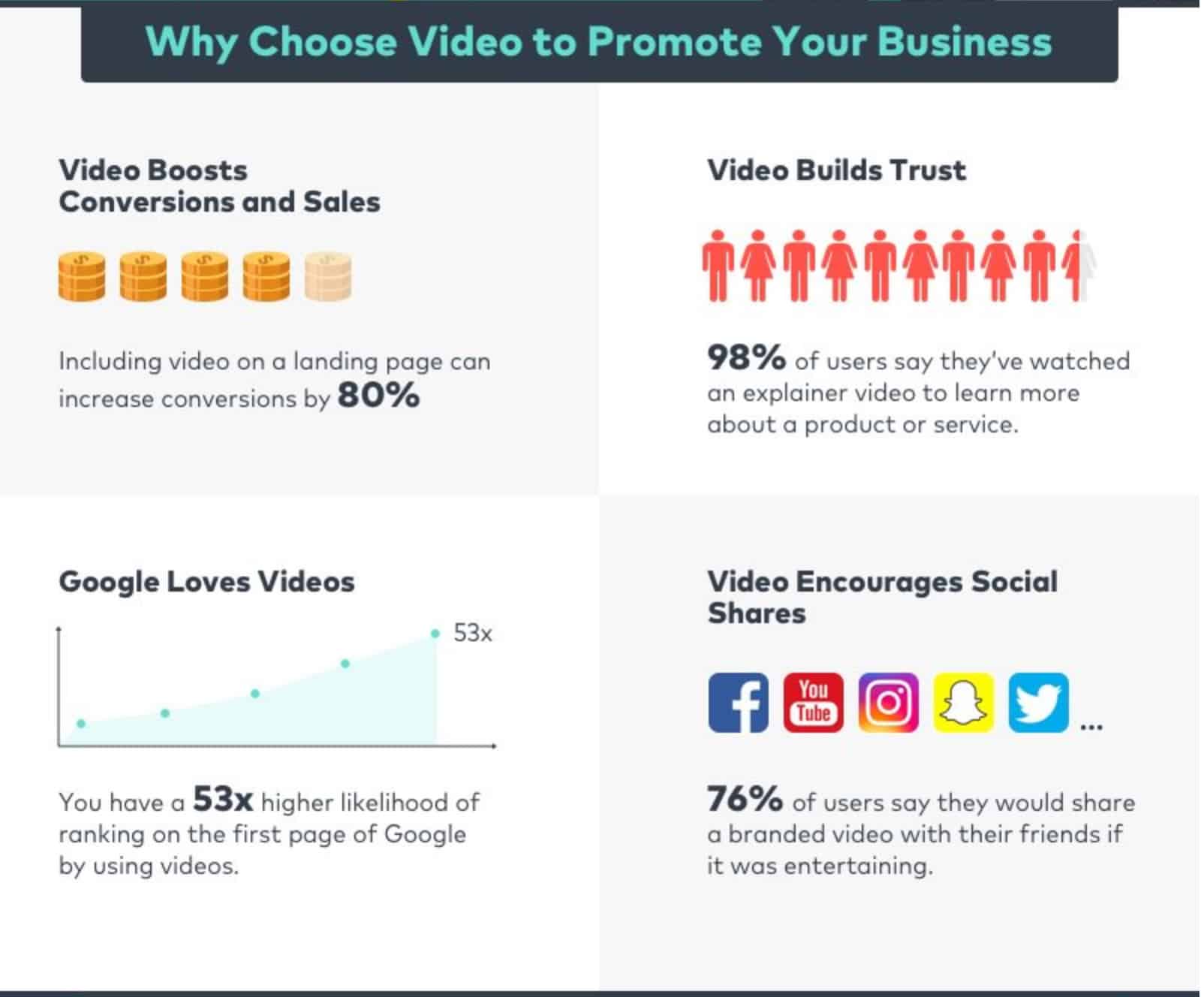 Sometimes clients ask me if they need to do youtube video marketing. It's a good question. Since Google owns youtube, the video promotion channel has become the second biggest search engine after Google.
Net Ingenuity encourages all clients to put their video assets on youtube.com and then we will embed the video promotion–hosted on youtube.com–into the client's WordPress website.
Video promotion is huge. Consider these trends in <a href="https://blog.bufferapp.com/social-media-video-marketing-statistics" target="_blank" rel="noopener">"50 Video Marketing Stats to Help You Create a Winning Social Media Strategy in 2017″</a>
Buffer reports: A Facebook video receives 135 percent more organic reach than a Facebook photo and that 73 percent of B2B marketers say that video positively impacts marketing ROI.
According to Forbes,&nbsp;&nbsp;The Rise Of Video Marketing is in part due to how&nbsp;video increases organic traffic and conversions, how viewers retain information better than readers,&nbsp; how the public is hungry for more videos.<strong>
</strong>
As hubspot reports, "From&nbsp;<a href="https://blog.hubspot.com/marketing/facebook-video-marketing-examples" target="_blank" rel="noopener">360-degree videos</a>&nbsp;to&nbsp;<a href="https://blog.hubspot.com/marketing/facebook-live-video-examples" target="_blank" rel="noopener">Facebook Live</a>, marketers are responding to audiences' shorter attention spans by making content more interactive and visual — and it's paying off."
Businesses focus on four common video genres, all instruction rather than entertainment:
<ul>
<li>Explainers</li>
<li>Product demos</li>
<li>How-tos</li>
<li>Testimonials.</li>
</ul>
There is a good infographic on this topic on&nbsp;https://smallbiztrends.com/2017/11/video-marketing-on-social-media.html
Whether your promotion is a corporate video, local video marketing, marketing b2b, or simply promotes a small business, there are things you can do to stand out against all the competition also doing youtube video marketing:
Do good keyword research and use your findings in an irresistible video title and in video tags. Use a custom thumbnail that downloads quickly and engages users. Create playlists. Reinforce your brand with a video intro and outro. Then share the video on all your social channels, include the videos on your blog. Allow others to embed your video in their sites.&nbsp;Video marketing solutions offer visitors to your website a deeply immersive experience. Speak with our <a href="http://netingenuity.com/contact-us/">video marketing consultants.</a>